SEO Marketing for Lawyers: Keyword Research
A blast from the past is this old post below I dug up that's from July 3rd, 2006.  A lot has changed in SEO and keyword research, but a lot has stayed the same.
It still comes down to finding the right keywords to focus on that are related to your practice, and that can bring traffic and potential clients to your site.  Finding keywords that are both high in traffic volume and low in competition is still a great thing in 2023!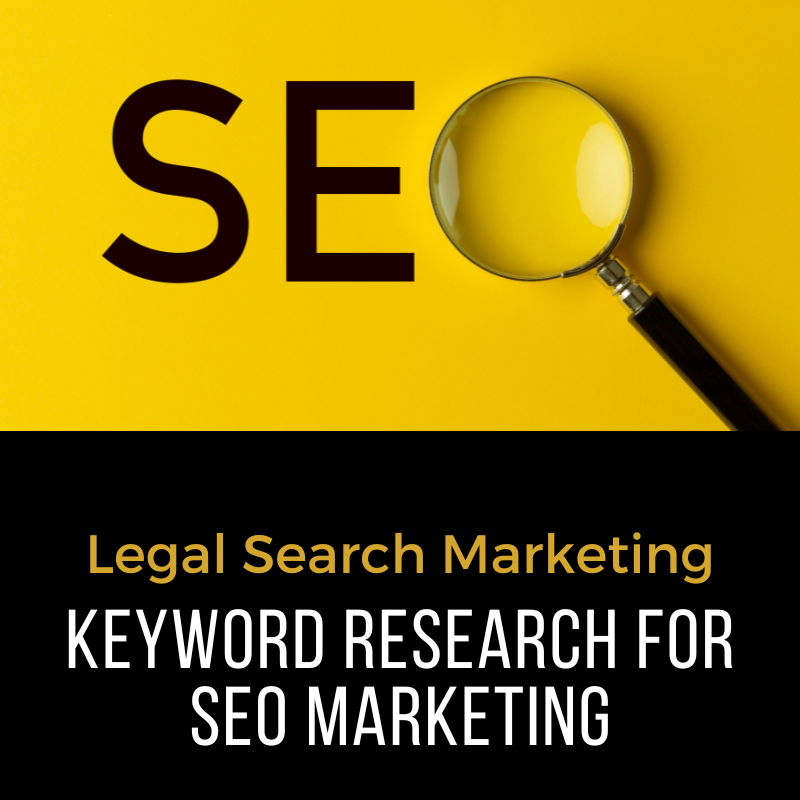 ***KEYWORD RESEARCH – LAW FIRM MARKETING
Every law firm should do some kind of keyword research to determine which keywords to focus on. Keyword research is vital to a successful search engine optimization campaign, both for organic and pay-per-click search marketing. Below are some example data from Keyword Research.com for a law firm in Portland, Oregon.
Query

Searches   

Occurrences

KEI

Predicted Daily

578,155

1,010,000

5.11

13,200

383,994

 

1,010,000

4.70

8,767

301,432

 

256,000,000

0.18

6,882

property law real estate law

19,211

 

77,900,000

0.04

439

real estate and portland oregon

16,012

 

10,400,000

0.30

366

12,902

 

991,000

1.56

295

real estate portland oregon

10,399

 

17,100,000

0.12

237

4,863

 

581,000

1.26

111

3,897

 

440,000

1.32

89

3,843

 

n/a

 

n/a

 

88
These are the top 10 results sorted by the # of searches. Below is an explanation of what each column means.
Predicted Searches
Figures in this column provide a rough estimate of the total number of daily searches on the internet as a whole, for each given search term.
The predicted Daily count is just that, "PREDICTED". The searches column contains the total number of ACTUAL searches in OUR DATABASE that is supplied by close to 200 search engines.
Occurrences
This column contains an estimate of the number of pages in which each search term appears.
The more pages there are, the more competition there is for the top position in the search results. This means that if there are a lot of pages, it will be more difficult for you to achieve good rankings.
KEI
KEI stands for Keyword Effectiveness Indicator.
It is designed to measure the effectiveness, or the value of a given search term. This is done by correlating a number of factors such as the number times a keyword is searched for, with the number of pages on which it occurs, etc.
KEI is a log scale with values from 0 to 10.
The concept is very similar to the Richter Scale used to measure earthquakes and this is a good way to think about the numbers. Search terms with the largest values tend to be less competitive and thus have the most potential to "shake" things up.
** If you want to see a more modern 2023 update on how to do keyword research for attorneys, take a look at this post on Keyword Research for Law Firms.