GOOGLE MARKETING FOR ATTORNEYS
Everyone knows GOOGLE and for good reason and why its the most important part of the overall Attorney Internet Marketing strategy.   There are many things you can do for your law firm with Google.  Obviously, you want your firms' name and all attorney names to show up when they are Googled, this is pretty basic. Then you want your location and practice area keywords to come up in the Google organic search listings.
SEO For Lawyers & Law Firms
Getting found on Google is more then just coming up in the free or organic listings. You also want your law firm to come up in the Google local or map listings.
This is done with your Google My Business (GMB) listing and getting it to show up in the Google 3 pack on the front page of Google for keywords related to your firm.
** You might have horrible organic Google rankings, and #1 Google my business local listings.   You want them both BUT they are two separate things that are achieved doing different things.
Then you also want to create Videos and have them show up at the top of YouTube and Google video listings.  It's possible to get a video ranked #1 for your main keyword and then have that Youtube listing show up on the first page of the Google organic searches.
Also, you can get your images optimized and ranked at Google images, this can drive a lot of traffic to your site if your images are optimized for SEO.
** You want to make sure you update the first image on the page and add your main keyword to the alt text.
OTHER GOOGLE TOOLS FOR LAWYERS
Then beyond using Google to get new possible clients, they also have a number of important tools that you need to be using.  Google analytics is the stats tool that you set up on your site so you can follow all the traffic on your site.
Then Google Search Console is something you need to set up for your legal website so that you can see key metric info on your site as far as the links to your site, the search traffic your getting and many other things.
Google is KING of the SEO World and without a doubt the most important search engine of all time. It's the GOAT (Greatest of all time) of search engines.  More traffic will come from Google than all other search engines combined. 
Getting traffic to your legal website from Google can lead to new clients if your site is coming up in the top 10 in the Google organic listings, the Google My Business Local and even the Google Video or Image Listings. 
LAW FIRM SEO
Let the law firm SEO experts at Legal Search Marketing help you with your next organic SEO project for your law firm.  We will do a free SEO audit of your attorney site and let you know what you need to do.
—> Google Organic SEO For Lawyers
—> Google My Business for Law Firms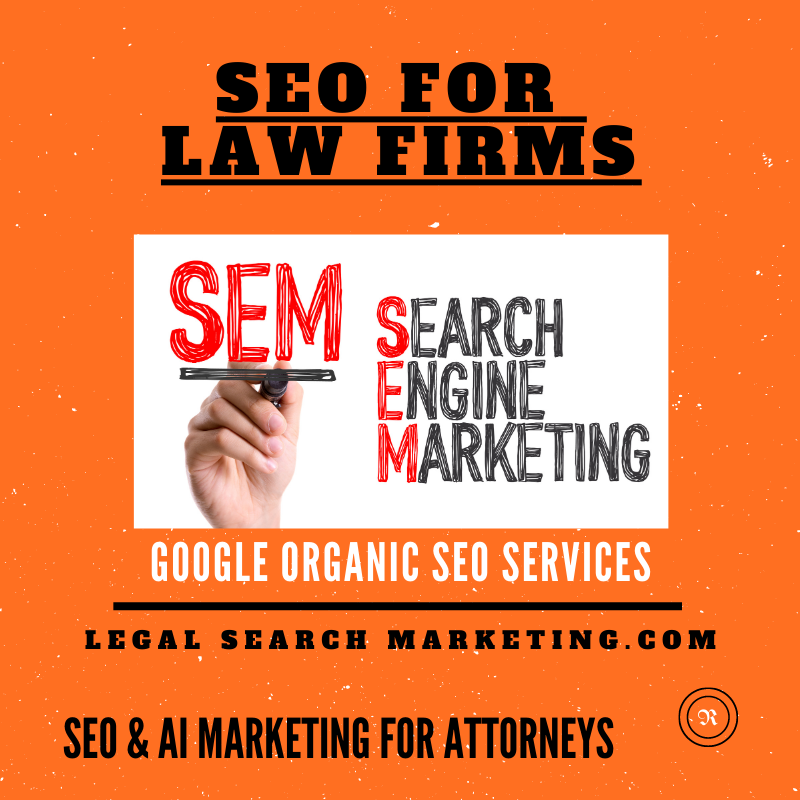 GOOGLE SEO FOR LAWYERS
You want your website to come up in the Google organic searches for keywords related to your legal practice.  Yet it's not as simple as updating your meta tags and Titles and getting a few good links anymore, its harder for sure and it really comes down to great content that is unique and plentiful.
The more unique content you have, the better chance you have of being ranked at Google.
Google Organic SEO For Lawyers
Getting your lawyer site to come up in the search results at Google is more important than ever before.  You want to be #1 if possible because the #1 spot gets the lions share of the traffic.   Yet being in the top 10 is important and top 3 is the obvious goal to shoot for.
If you are ranking on the 2nd page of Google, that means you should really focus on those pages and trying to optimize them more.  You also need backlinks from other legal related sites in order to rank higher in Google.
Google Local SEO for Attorneys
GOOGLE Local SEO and getting your Google My Business (GMB) listing ranked is probably MORE important than anything else.    If you're in the Google 3 pack for your main location and keywords, you probably will get more qualified leads then any other way.    Getting Google 5 star reviews and getting great citations from other legal sites that are local to your law firm are the keys to getting top GMB rankings.
Video SEO For Law Firms
Google Video and YouTube Video are basically the same things.  If you can get a video ranked at YouTube, it will also be in Google video results and if you can get the top YouTube spot for certain keywords, that listing can ALSO show up in the Google organic listings, most times on the first page.
So creating a Video, uploading it to YouTube, then embedding that video on a blog post, that you syndicate to all of your social media sites, is the key!       Videos work well and why not create a video for every blog post that is just a summary of that post?
Make it like 30 seconds and just have some related images, some text about the post and then a CTA – Call to Action.  Then odds are that the blog post that you do will do better overall because it has a video in it, especially if that video gets ranked #1 on YouTube.
BENEFITS OF ORGANIC SEO
Search Engine Optimization (SEO) can help place your web site among the top search engine results for a particular search, which will lead users looking for your firm's practice area to your web site. This is a good way to establish your web presence and gain a solid flow of traffic to your site, which can lead to new clients.
GOOGLE HISTORY
Google Inc. is a multinational public cloud computing and Internet search technologies corporation.
Google hosts and develops a number of Internet-based services and products, and generates profit primarily from advertising through its AdWords program.  The company was founded by Larry Page and Sergey Brin, often dubbed the "Google Guys", while the two were attending Stanford University as Ph.D. candidates. It was first incorporated as a privately held company on September 4, 1998, with its initial public offering to follow on August 19, 2004.
***************************************
OTHER GOOGLE RELATED TOPICS FOR LAWYERS: