SEO Tips for Attorneys – Boost Rankings & Gain Clients
As a lawyer, you know how important it is to attract clients to your legal practice. With more people turning to online search engines to find legal services, implementing effective SEO strategies is crucial to ensure that your website appears on the first page of search results.
SEO Tips for lawyers can be a game-changer for your legal practice, helping you stand out in a crowded market and attract more potential clients. In this article, we'll explore the key SEO concepts and strategies that lawyers can use to boost their online presence, optimize their website, and generate more leads and conversions.
Key Takeaways:
SEO is crucial for lawyers to attract more potential clients and stand out in a crowded market.
Effective SEO strategies can help your website rank higher in search results and generate more leads and conversions.

Understanding Lawyer SEO: Key Concepts and Strategies
If you're a lawyer looking to boost your online presence and attract more clients, understanding the basics of SEO is crucial. Search engine optimization involves optimizing your website so that it appears higher in search engine results pages (SERPs), ultimately increasing visibility and traffic to your site. However, SEO can be a complex and ever-evolving field, and implementing successful strategies can be challenging, especially for legal professionals.
Attorney SEO strategy requires a unique approach that takes into account the legal industry's nuances and challenges. To achieve SEO success, you must first understand the key concepts and strategies of lawyer SEO. Here are some essential elements to keep in mind:
| Key Concepts | Strategies |
| --- | --- |
| Keyword Research | Conduct thorough keyword research to identify the most relevant and profitable keywords to target in your website content and metadata. |
| On-Page Optimization | Optimize individual pages on your website for specific keywords, ensuring that they include title tags, meta descriptions, headers, and content optimized for the target keyword. |
| Mobile Responsiveness | Ensure that your website is mobile-friendly, meaning that it is optimized for use on mobile devices and provides a seamless user experience across all devices. |
| User Experience | Create a user-friendly website with easy navigation, fast loading speeds, and high-quality content that engages and informs potential clients. |
| Website Speed | Optimize your website's loading speeds to ensure that it loads quickly and efficiently for users, as slow loading speeds can negatively impact your SEO and user experience. |
Understanding Lawyer SEO: Key Concepts and Strategies
In addition to these strategies, it's important to keep up-to-date with the latest algorithm updates and best practices in the industry. Google's algorithms are constantly evolving, and staying ahead of the curve can give you a competitive edge in the legal field.
By understanding the key concepts and strategies of lawyer SEO, you can begin to implement effective optimization techniques that can help your website rank higher, attract more traffic, and ultimately, gain more clients.
y elements, you'll be able to improve your website's ranking on SERPs and attract more potential clients to your legal practice.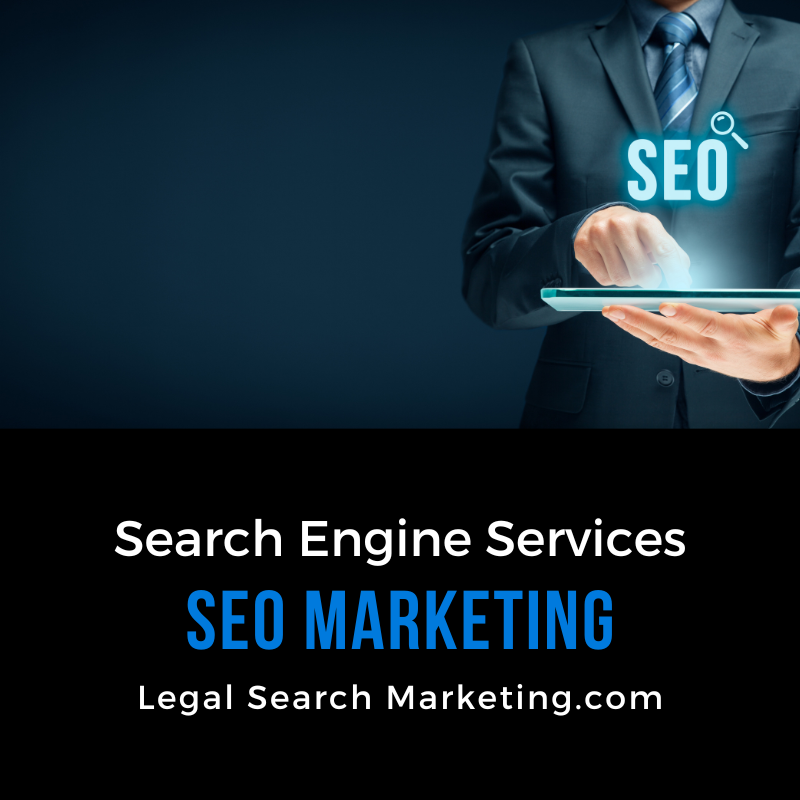 Creating High-Quality Legal Content: A Must for SEO
Content is king, and for lawyers, this is no exception. Creating high-quality legal content is a must for effective SEO. By doing so, you can establish your expertise in your field, provide value to your potential clients, and increase your website's search engine rankings.
Here are some tips to help you create high-quality legal content:
Do your keyword research: Use keyword research tools to identify relevant keywords and phrases that potential clients might use in their search queries. Incorporate them naturally into your content.
Provide informative and engaging content: Write about topics that potential clients may find valuable and interesting. Make your content easy to read and understand, avoiding complex legal jargon.
Use different types of content: Create blog posts, articles, videos, FAQs, and other forms of content that may resonate with your target audience.
Optimize your content: Use on-page optimization techniques such as title tags, meta descriptions, and header tags to signal search engines what your content is about.
By creating high-quality legal content, you can boost your SEO efforts and attract potential clients to your website. Remember to make sure your content is unique, informative, and engaging.
Local SEO for Lawyers: Dominating the Local Market
Now that you understand the basics of SEO for your law firm, it's time to focus on local SEO. This not only increases your visibility to potential clients in your area but also helps you compete with other local law firms.
First, make sure your business information is accurate and consistent across all online platforms. This includes your name, address, phone number, and website. Claiming and optimizing your Google My Business listing is also crucial and can help you appear in Google's Local Pack and Maps results.
| | |
| --- | --- |
| Tip: | Encourage your satisfied clients to leave reviews on your Google My Business listing. Positive reviews can boost your local search rankings and help establish credibility with potential clients. |
Another important factor in local SEO is the use of location-specific keywords on your website. This helps search engines understand the areas you serve and can increase your visibility for relevant local searches.
Additionally, getting listed in local directories, such as Yelp and Avvo, can also help improve your local search visibility. Just make sure you choose directories that are relevant to your practice area and location.
Keep in mind that while local SEO can be highly effective, it's important to continuously monitor and update your local listings and website to ensure accuracy and relevance.
"With the rise of mobile searches, optimizing your website for local keywords and local search is even more important for law firms. Don't miss the opportunity to dominate your local market by ignoring local SEO."

– John Smith, Legal Marketing Expert

Building High-Quality Backlinks: Enhancing SEO Authority
Backlinks are an essential aspect of SEO for lawyers. High-quality backlinks from reputable and related websites show search engines that your website is trustworthy, relevant, and valuable. This, in turn, can improve your website's authority and rankings in search results.
Building backlinks takes time and effort, but the payoff can be significant. Here are some strategies to consider:
Guest blogging: Write articles for other reputable websites in your industry, and include a link back to your website.
Outreach to legal directories: Submit your website to relevant legal directories for a backlink.
Partnerships with other reputable websites: Collaborate with other reputable websites to create content or offer services, including a backlink back to your website.
When building backlinks, remember that quality is more important than quantity. Aim for natural and relevant backlinks, and avoid questionable practices such as buying links or participating in link farms. These practices can result in penalties or even de-indexing from search engines.
Overall, building high-quality backlinks is an effective way to enhance your SEO authority and improve your website's rankings. Keep in mind that it takes time and effort, but the payoff can be significant in attracting potential clients to your legal practice.
Monitoring and Measuring SEO Success: Analytics and Tools
Now that you've implemented your SEO strategies, it's important to monitor and measure their success. Utilizing SEO analytics and tracking tools will provide valuable data to help you make informed decisions and continually improve your website's performance.
Essential SEO Tracking Tools
There are various SEO tracking tools available, but some are more essential for lawyers than others. Google Analytics provides valuable insights into website traffic and user behavior. Google Search Console can help with website indexing and performance. SEMrush is a versatile tool that can help analyze website traffic, keyword research, and backlink profiles.
Key Metrics to Monitor
When it comes to tracking SEO success, there are several key metrics to monitor. Organic website traffic, bounce rate, and click-through rate are all important indicators of website performance. Pay attention to keyword rankings, backlink profiles, and local search rankings. Keep an eye on your website's load time and mobile responsiveness, as they can impact user experience and search engine rankings.
By monitoring these metrics and utilizing SEO tracking tools, you can make data-driven decisions to enhance your website's SEO performance and lead generation abilities.
SEO TIPS For Lawyers & Law Firms
Getting found on Google is more then just coming up in the free or organic listings. You also want your law firm to come up in the Google local or map listings.
This is done with your Google My Business (GMB) listing and getting it to show up in the Google 3 pack on the front page of Google for keywords related to your firm.
OTHER WAYS TO SHOW UP ON GOOGLE SEARCH RESULTS
** You might have horrible organic Google rankings and top #1 Google my business local listings.   You want them both BUT they are two separate things that are achieved by doing different things.
Then a 3rd way you could show up on the Google search results is via a YouTube video. You want to create Videos and have them show up at the top of YouTube and Google video listings.  It's possible to get a video ranked #1 for your main keyword and then have that Youtube listing show up on the first page of the Google organic searches. Sometimes you can have multiple videos and multiple search results show for the same keyword search.
Then a 4th way to show up on Google is via the Images search. You can get your images optimized and ranked at Google images, this can drive a lot of traffic to your site if your images are optimized for SEO.
** You want to make sure you update the first image on the page and add your main keyword to the alt text.
OTHER GOOGLE TOOLS FOR LAWYERS
Then beyond using Google to get new possible clients, they also have a number of important tools that you need to be using.  Google analytics is the stats tool that you set up on your site so you can follow all the traffic on your site.
Then Google Search Console is something you need to set up for your legal website so that you can see key metric info on your site as far as the links to your site, the search traffic your getting and many other things.
Google is KING of the SEO World and without a doubt the most important search engine of all time. It's the GOAT (Greatest of all time) of search engines.  More traffic will come from Google than all other search engines combined. 
Getting traffic to your legal website from Google can lead to new clients if your site is coming up in the top 10 in the Google organic listings, the Google My Business Local and even the Google Video or Image Listings. 
LAW FIRM SEO
Let the law firm SEO experts at Legal Search Marketing help you with your next organic SEO project for your law firm.  We will do a free SEO audit of your attorney site and let you know what you need to do.
—> Google Organic SEO For Lawyers
—> Google My Business for Law Firms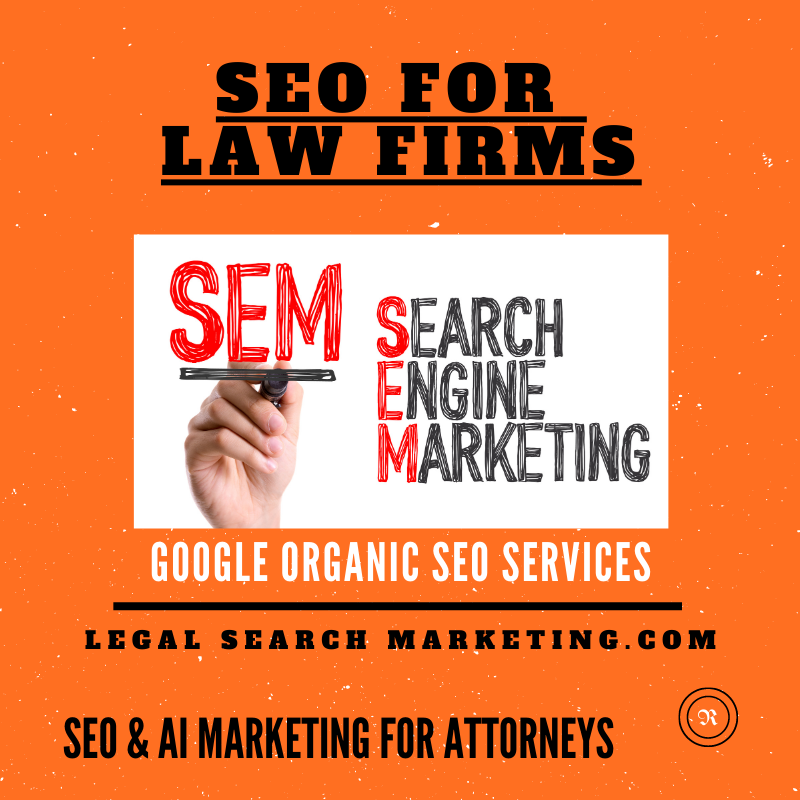 GOOGLE SEO FOR LAWYERS
You want your website to come up in the Google organic searches for keywords related to your legal practice.  Yet it's not as simple as updating your meta tags and Titles and getting a few good links anymore, its harder for sure and it really comes down to great content that is unique and plentiful.
The more unique content you have, the better chance you have of being ranked at Google.
Google Organic SEO For Lawyers
Getting your lawyer site to come up in the search results at Google is more important than ever before.  You want to be #1 if possible because the #1 spot gets the lions share of the traffic.   Yet being in the top 10 is important and top 3 is the obvious goal to shoot for.
If you are ranking on the 2nd page of Google, that means you should really focus on those pages and try to optimize them more.  You also need backlinks from other legal-related sites in order to rank higher in Google.
Google Local SEO for Attorneys
GOOGLE Local SEO and getting your Google My Business (GMB) listing ranked is probably MORE important than anything else.    If you're in the Google 3 pack for your main location and keywords, you probably will get more qualified leads then any other way.    Getting Google 5 star reviews and getting great citations from other legal sites that are local to your law firm are the keys to getting top GMB rankings.
Video SEO For Law Firms
Google Video and YouTube Video are basically the same things.  If you can get a video ranked at YouTube, it will also be in Google video results and if you can get the top YouTube spot for certain keywords, that listing can ALSO show up in the Google organic listings, most times on the first page.
So creating a Video, uploading it to YouTube, then embedding that video on a blog post, that you syndicate to all of your social media sites, is the key!       Videos work well and why not create a video for every blog post that is just a summary of that post?
Make it like 30 seconds and just have some related images, some text about the post and then a CTA – Call to Action.  Then odds are that the blog post that you do will do better overall because it has a video in it, especially if that video gets ranked #1 on YouTube.
OTHER GOOGLE RELATED TOPICS FOR LAWYERS: